National Safe Place
For 102 years, El Paso Center for Children, Inc. (the Center) has provided specialized care and services for four generations of children and families. Today, we continue serving youth living with different challenges, among them youth and young adults experiencing homelessness, who have run away, or who have been trafficked. As the National Safe Place lead agency for El Paso, the Center has created a network of 79 community partners who serve as an access point to our agency's continuum of services and linkages to other providers in El Paso.
Become a Safe Place Community
Safe Place works hard to ensure safety is available to youth at every corner. There are several models of Safe Place that can be considered. Take a look at the following options or contact Safe Place today to determine which model is best for your community.
Safe Place Site
Safe Place sites are businesses and other public locations designated by licensed Safe Place agencies as "safe places" for youth to go when in a crisis situation. These locations fit criteria set up by NSPN and receive orientation and training by the local licensed Safe Place agency. Learn more about becoming a Safe Place site here.
Safe Place Ambassador
Safe Place Ambassadors are volunteers who are passionate about creating a world where all youth are safe. Ambassadors are committed to increasing awareness and education of the Safe Place program. Learn more about becoming a Safe Place Ambassador here.
El Paso Safe Place Locations
To find a Safe Place location, click on the options below or click here to enter your zip code and be provided with a list of Safe Place sites nearest you.
Contact Us About Safe Place
Need Support Now?
24-Hour Helpline: 915.330.9513
Drop-In Center
3710 Altura Ave. El Paso, TX 79930 Building D
Emergency Shelter for Youth (11-17 years)
3720 Altura Ave. El Paso, TX 79930 Building E
915.562.4765
Professional staff standing by to help.
Immediate support for youth and young adults experiencing stress, trauma, upheaval, etc.
Who Can Receive Services?
Youth and young adults between 11-24 years.
If you're over 18 and need help, please contact us, here.
What is Safe Place?

Safe Place is a national youth outreach and prevention program for young people under the age of 18 in need of immediate help and safety. As a collaborative community prevention initiative, Safe Place designates businesses and organizations as Safe Place locations, making help readily available to youth in communities across the country.
Safe Place locations include: libraries, YMCAs, fire stations, public buses, various businesses, and social service facilities. Designated Safe Place locations display the Safe Place sign, the universal symbol of youth safety.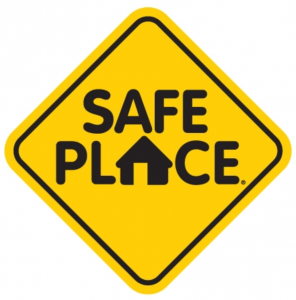 COVID 19 Update
We are open and continue to serve our clients using all available precautions, including PPE, extra cleaning protocols, and social distancing. Our vehicles have sneeze guards between drivers and clients. We're working hard to stay COVID-free!
"My friend has a place to stay and his little sister is safe too. You have no idea what you've done for them. Thank you!"
Request an Appointment
For immediate support, call our 24-Hour Helpline: (915) 588-6542. For an appointment, email referral, or appointment request Call (915) 565-5021 or click the button below.