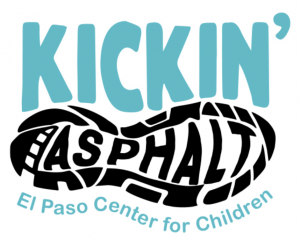 El Paso Center for Children's Kickin' Asphalt 5K Fundraiser is returning for 2023!
• When: Saturday, April 1st, 2023
• Race Start Time: 6:00 pm
• Where: Ascarate Park
Join us for a fun-filled evening at Ascarate Park! All proceeds will directly benefit El Paso Center for Children.
Become an Event Sponsor
We're looking for 2023 event sponsors! Download our form, below, for more information.
Questions?
Have questions about our event or about becoming a sponsor? Want to volunteer or get involved? Please contact our Chief Development Officer, Adrian Duran.

Click the button below to visit our Facebook Page for additional upcoming events. Have questions or comments? Contact us here.

"The staff are always respectful and thoughtful about any situation. They treat everybody equally."
– Center for Children Client
Request an appointment
For an appointment, email referral, or appointment request call (915) 565.8361 or click the button below.