Domestic Violence Awareness Month
Written by Mel Gutierrez, BSN, RN
October is domestic violence awareness month. Domestic violence is also known as intimate partner violence (IVP), because anybody in an intimate relationship can be a victim of this crime, even if they do not live together1. IVP is unfortunately very common. About 1 in 4 women and 1 in 10 men experience IVP in their lifetime, which may be sexual, physical, or stalking by an intimate partner. Over 43 million women and 38 million men experience psychological violence by an intimate partner in their lifetime. Eleven million women and 5 million men reported experiencing IVP before eighteen1.
Knowing what IVP is, what increases the risk for IVP, and the typical patterns it follows can help ensure that everybody who chooses to be in intimate relationships is treated with the respect and love they deserve1. The article concludes with a number of resources if you or a person you care for is a victim of this crime.
---
Quick Resources for Help 
---

What exactly is IVP? 
Often when people think of an abusive relationship, physical abuse is the first thought that comes to mind. While physical abuse is a common type of IVP, there are many other forms of abuse. IVP is taking place when the abuser in a relationship has a behavior pattern that creates and maintains power and control in their relationship and over their victim2.
A common tool used to help explain IVP is the Power and Control Wheel, which was developed by the Domestic Abuse Intervention Project in Duluth, MN. This model assumes the she/her pronouns for the victim and he/him pronouns for the perpetrator. However, abusive behavior can happen to people of any gender or sexuality, and abusers can be of any gender and sexuality2.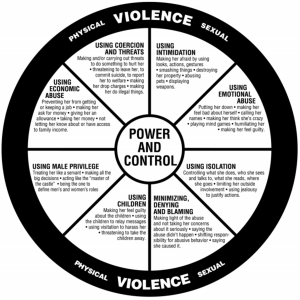 When a relationship has a pattern of the behaviors seen in this wheel, it is time to reach out for help. All abuse is serious, and nobody deserves to be in a relationship without respect2.
Two unique types of IVP are sexual coercion and stalking. 
Sexual coercion occurs when one partner pushes the victim into sexual acts they are not comfortable with. There are different levels of this abusive behavior.
An abuser may suggest that they are "owed" sex for gifts or because consent was given in the past.
The abuser may also force their partner into acts they are uncomfortable with, such as choking or restraints.
An abuser may force their victim to have sexual contact with others or create pornography.
If the abuser gains something of value for the abuse, it becomes a type of Human Trafficking.

The El Paso Center for Children offers a Drop-In Center which can help victims of human trafficking if they are between the ages of 11-24. For victims older than 24, the free Victims of Crime Counseling Services can help with next steps.
You can also contact The Human Trafficking Hotline by phone at 1-888-373-7888 or Text "BEFREE" (233733) If you or someone you know might be experiencing human trafficking
Reproductive coercion is closely related to sexual coercion. An abuser denies their victim the right to control their reproductive system. It often co-occurs with other types of abuse. Examples include:
An abuser refusing to use or remove birth control during sex.
Forcing their victim to become pregnant or to end a pregnancy2.
Stalking is a type of IVP where an abuser watches, follows, or harasses a victim repeatedly, making them feel afraid and unsafe. The abuser may be a current or past intimate partner or even a stranger. Examples of stalking include:
Showing up at the victim's home or workplace unannounced and uninvited
Leaving unwanted texts, messages, letters, or emails
Leaving unwanted items, gifts, or flowers for the victim
Using social media to track the victim, possibly using other people's social media accounts or creating fake accounts to stay aware of the victim's activities
Damaging the victim's car, home, or other property
If you or somebody you know is a victim of stalking, it is vital to start a stalking log as soon as possible. This document gives evidence of the abuser's behavior which can help make sure law enforcement can help the victim2.
Who is at Risk for IVP 
Not one thing puts a person at higher risk of being a victim of IVP. There are, however, individual, relationship, and societal factors that increase the risk of a person being in a relationship that becomes abusive1.
Individual Risk Factors are personality traits, and circumstances a person may be in that can increase the chance they may enter an abusive relationship.  However, this does not mean a person deserves to become a victim if they have these traits. It also does not mean they will enter an abusive relationship. Awareness of features that increase risk allows us to help identify people who may be in trouble1. These risks include:
Low self-esteem, depression, or suicide attempts
Social isolation and having few friends
Low education or income, unemployment
Substance abuse
History of physical or emotional abuse in childhood
Relationship Factors are traits and circumstances of the relationship itself that increase the risk of violence taking place1.
Frequent conflicts (possessiveness, jealousy, tension)
On-again, off-again relationships
One or both partners dealing with financial stress
History of family violence for one or both partners
Being associated with violent peers (friends, family, etc.)
Societal Factors are the things that are going on outside of an individual or their relationship that increase the risk for IVP1.
Living in communities that struggle with:

Poverty and low employment rates
Violence
Easy access to drugs and alcohol
Having neighbors who don't come together as a community and don't look out for each other

Believing in strong traditional gender roles, like women should be submissive to men who support their families and make decisions.
Weak laws against interpersonal violence
Lack of access to health, educational and economic supports
The Cycle of Violence
Many victims that experience IVP state that the violence does not happen randomly. Often there is a cycle abusers follow while abusing their victim3.
Tension-Building During this first phase, the abuser is on edge and often swears and uses other angry gestures. There might be more minor fights than usual, and the tension increases with every outburst. The person being abused often feels like something terrible is going to happen or like they are walking on eggshells.
Acute or Crisis Phase After tension builds, an explosion follows. The crisis phase is marked by a major act of violence, which may be a physical/sexual attack, threats to harm, or extreme verbal abuse. This is when an injury is most likely, and law enforcement may become involved.
Calm or Honeymoon Phase After the crisis phase, the abuser will claim they feel sorry for what happened and will act apologetically and lovingly. They act like the person the victim first fell in love with again to manipulate their victim. They might say things like:
I never meant to hurt you
I'll never do it again
I promise I will change
I promise I will get help
It only happened because I was drunk/high/lost control
But these are empty apologies, and the honeymoon does not last. Eventually, tension once again builds, and the cycle repeats itself. These phases may have months, weeks, or days between each cycle, and often the longer an abusive relationship lasts, the shorter each phase lasts. As a result, the cycle happens more often, and the abuse often worsens with each cycle completed3.
The cycle does not describe all abusive relationships, but it does tend to fit many victims' perceptions of their abuse. If you are experiencing a cycle like the one described or know somebody who is, abuse is not the victim's fault. Only an abuser is responsible for their behavior3.
Resources for Help 
Interpersonal violence is an issue that, unfortunately, touches most lives, either directly or indirectly. Nobody is immune from entering an abusive relationship or deserves to have it happen to them. Victims of IVP have unique challenges, and it can be hard to know where to turn. The El Paso Center for Children has a number of services available which can help victims of IVP.
If you or somebody you know is a victim of IVP,  look into making a safety plan. Please be aware that while planning to leave an abusive relationship, there is an increased risk of violence. If you are concerned for yourself or others, call either the counseling line directly at 915.565.5021 or contact 800.799.SAFE (7233) for the National Domestic Violence Hotline.
If you have specific questions, please reach out to the El Paso Center for Children. All people in intimate relationships deserve to be treated with respect, and reaching out for help is a strength.
________________
The information written comes from my education as a registered nurse as well as my baccalaureate psychology education. It is only intended for educational purposes. The information written for this blog is not a substitution for professional medical advice or therapy services.